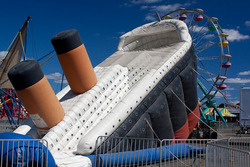 A huge focus of my blog deals child safety issues, because in addition to being a personal injury lawyer, I'm a father of three. Like most parents my number one goal is keeping my children safe. Recently I've discovered moon bounces and inflatable slides can pose a serious injury risk. More and more I'm hearing about deaths and serious head injuries from incidents on inflatables, or as my kids call them "jumpy jumps." Naturally I'm worried and want to read more to find out how these incidents happen.
I started with last year's report by the U.S. Consumer Consumer Product Safety Commission on the estimated number of injuries and deaths associated with inflatable amusements from 2003 – 2007. According to the study, approximately 6,000 people are injured every year from the use of inflatables. Most of the incidents involved moon bounces (91%) and the most common injuries were fractures (29%). Of course what scared me the most were the reported deaths. How did they happen? From the report and other sources I found numerous death reports.

Deaths Resulting from Inflatables:
2000 – 19 year old wearing safety harness and rope fell off an inflatable attraction and suffered a fatal head injury. The rope and harness failed to stop his fall.
2002 – 21 year old male died from a broken neck in a moon bounce.
2003 – 15 year old boy died after falling from an inflatable slide at a high school wellness event. The slide was part of a larger obstacle course.
2004 – 18 year old male died from a serious head injury after falling from an inflatable slide at a high school prom party.
2005 – 24 year old female fell 20 feet from an inflatable rock climbing wall at a music festival suffering a fatal head injury. When she fell she landed on the inflatable base, but bounced off and struck her head on the surrounding pavement.
2005 – 3 year old boy died after an adult fell off an inflatable bounce ride called "king of the hill." The child's head struck the floor and he died from his injuries.
2006 – 11 year old girl fell off an inflatable Titanic slide and died from traumatic brain injury.
2007 – 8 year old boy died while playing in an inflatable castle that was blown 90 feet by strong wind.
2008 – 28 year old woman killed using a slide at a inflatable party location in Missouri.
2010 – 5 year old boy died while playing on the 'king of the hill." The boy was bounced over the inflatable barrier and struck his head on the surrounding concrete.
The above is by no means an exhaustive list of all the deaths from inflatables. These are just the few I've discovered in my brief research into the issue. However, these incidents got my attention.
It's not realistic to think I will be able to prevent my children from playing on jumpy jumps and big slides, they enjoy them too much. Every few months one of them gets an invite to a birthday party at an inflatable party location. From reviewing the incidents of deaths and serious injury from inflatables most occur from children falling off inflatables and striking their head on hard surfaces. This often occurred due to 1) improper padding surrounding the inflatable, 2) the inflatable slides collapsing, 3) inflatables with children inside being caught and thrown by strong wind, 4) use of the inflatable by teens/adults jumping with small children.
So what does this all mean? How can I keep my kids safe from inflatables? Unfortunately, I'm not sure I have an answer. However, now that I know the risks I feel better equipped to protect my children. I understand I can't keep my kids in a bubble and some injuries are unavoidable. I also understand, broken bones and similar injuries can happen no matter how safe you are. It is the head injuries that really scare me. Personally I'm only going to let my kids play on inflatables when 1) me or someone I trust is supervising, 2) there is good padding surrounding the slide, 3) everything is fully inflated, 4) no "big kids" or adults are playing rough and 5) everything generally appears safe.