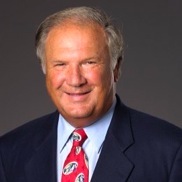 In a case that may have particular interest to University of Georgia Football Fans, ex-UGA football coach Jim Donnan is being sued by one of his former players Jonas Jennings, who was a standout for the Dawgs between 1996 and 2000, and entered the NFL Draft in 2001. Jennings is suing his old coach for $950,000 in lost principal and earnings he says was promised to him for investing in the company GLC Limited, a company Donnan was working for on a commission basis. GLC was pitched by Donnan as retail liquidation company, with it's principal business being in the re-sale of consumer products.
In the lawsuit Jennings blames Donnan, who he describes as a father figure and mentor, for deceiving him into investing money to go to furniture and appliances that were to be sold at a profit. Jennings says Donnan portrayed himself as officer or someone with control over GLC to lure Jennings into investing.The lawsuit alleges that in reality Jennings money was used in a Ponzi Scheme for the benefit of Donnan (who was not an officer), with Jennings' capital going to prior participants in the same investment, rather than to purchase inventory for a viable business enterprise.
Jennings is only one small part of Donnan's troubles, as the FBI and IRS began investigating his activities with GLC back in April of this year, and the findings seem to paint a troubling picture. Donnan was the first major investor in GLC, investing more than $5 million of his own money, and was chiefly responsible for gaining additional capital for the company. Bankruptcy court documents for GLC, who filed for protection earlier this, show that investors sank nearly $82 million into GLC, but that less than $12 million was actually spent on inventory, with at least $13 million in missing investor money.
According to GLC, Donnan made more than $14.5 million through commissions of 15 to 20 percent for any investment he solicited. Oddly the investors he solicited, including former University of Oklahoma coach Barry Switzer, Virginia Tech football coach Frank Beamer, and Texas Tech football coach Tommy Tuberville all lost substantial sums of money.
In July of this year GLC also sued Donnan, who they say in the lawsuit, "Is substantially, if not principally, responsible for the initiation and operation of a far-reaching Ponzi scheme that defrauded GLC and it's investors of approximately $27,752,159."

Donnan has now filed for personal Chapter 11 protection with his wife, but Jennings is seeking a judge's order stating that his debt is non-dischargeable in the proceedings. A pre-trial date of December 14th has been set for Jennings case in front of a federal bankruptcy judge in Athens, but it appears there is a long line of creditors in front of Jennings trying to get a piece of Donnan.
This is an unfortunate case, as Jonas Jennings is well known in the Atlanta area for his philanthropic work. He has donated over $100,000 to his former high school in East Point, and every year hosts a free football camp attended by NFL stars for under privileged kids in the area. As a UGA graduate and football fan, and a fan of the work Jonas Jennings has done in the community, I hope this situation is resolved in his favor.