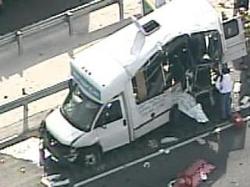 On December 24, 2009 a black Honda struck and overturned a bus carrying developmentally disabled adults. All 13 passengers and the driver of the bus were injured. At least two of the passengers were ejected and all were taken to Atlanta area hospital. According to news reports, the driver of the black Honda was seen driving erratically before the collision and left the scene of the accident before the police arrived.
As an Atlanta Injury Lawyer that often represents DUI victims, I pay attention to news reports of collisions caused by drunk drivers. However, this story was particularly disturbing when I read about the bus passengers. The passengers were members of a group called Just People that provide support for adults with developmental disabilities. The group was on their way to an art class when the horrible collision occured. It just boggles the mind that someone could cause that kind of carnage on the interstate and then leave the scene. I was pleased to read in a follow-up news report that the suspected drunk driver was located and is being held without bond with charges of Felony Hit and Run and Driving Under the Influence.

Any DUI Victim Lawyer will tell you that typically the collisions caused by drunk drivers are more violent and the resulting injuries more severe. This collision appears to be no exception. According to news reports, the bus flipped over and skidded on its side until it hit a guardrail. Five people were thrown onto the pavement. Considering how bad this could have been, I was pleased to read a recent WSBTV Report that 10 of the 13 Just People members injured in the collision are out of the hospital. Of those remaining in the hospital two are in good condition and only one person is still in critical condition. Our prayers continue for everyone impacted by this collision.