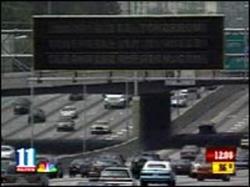 As a Marietta Personal Injury Lawyer that travels out of State every thanksgiving holiday, I was sadened to see Atlanta suffer several deadly collisions over this past holiday weekend. One of the first tragic stories occurred early Wednesday morning on I285. A woman's car had broken down and stopped on the left shoulder of the interstate. She was hit by a tractor-trailer when she left her vehicle to go get help. The woman's name was not released. However, 11alive reported she died at the scene.
Drivers are extremely vulnerable when their vehicles are stopped on the interstate. Depending on the situation, both staying in and getting out of your vehicle can be very hazardous choices. Atlanta is a dangerous city and we have more than our share of terrible accidents. If you break down, always try to stop your car on the right shoulder of the interstate. Get as far off the road as possible and put on your hazard lights. Call 511 and 911 and a HERO unit will be sent to your location.
In response to tragic incidents such as Wednesday's fatal crash, 11alive wrote the article To Sit or Make a Run for It. Clearly, neither is a safe choice. Hopefully we can find new ways to make the interstate safer for stranded motorist.