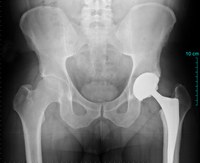 At the end of August, 2010, DePuy Orthopedics, a division of Johnson & Johnson, announced a DePuy Hip Replacement Recall expected to affect an estimated 93,000 patients. The DePuy ASR hip replacement system has been failing at unusually high rates in patients all over the country including Georgia. Implant loosening, fractures, dislocations, and potentially toxic metals entering the bloodstream have led to frequent repeat surgeries in patients that received DePuy ASR hip implants.
Particularly troubling is the fact that DePuy was able to bypass Food and Drug Administration testing by exploiting the implant loophole. A product such as a hip implant can be sold to the public without testing if it is a device that is similar to a product that has already been approved by the FDA for use on patients.
The DePuy implant is not the only hip implant system causing extensive post surgical complications, but it's the implant currently causing the most problems. A large number of people have been affected by the DePuy ASR implant, because Johnson & Johnson waited over two years after it first became clear there was a serious issue with the product to announce the recall and pull the product from the market.
While this recall has informed some, many patients are still confused. As a Georgia Product Liability Attorney I've spoken with many patients experiencing severe complications following their hip replacement procedure, and although some have received letters informing them of a specific recall, most have no idea what company manufactured their particular implant. One way to find out whether you have a DePuy hip implant is to call your surgeon and ask them.
Litigation is pending in State and Federal Courts across the country for injuries caused by the DePuy ASR hip implant system, with new Plaintiffs being added as they are discovered. Johnson & Johnson denies there is any problem with the product and is vigorously defending these suits.