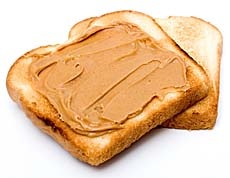 As a father of three children who enjoy Kellogg's frosted mini-wheats, I was quite disturbed by the voluntary product recall for the frosted and unfrosted mini-wheats original and bite size this week. Apparently, flexible metal fragments from a faulty manufacturing machine were found to be in the cereal. The products subject to recall fall under the 'better used by dates' of April 1, 2013 – September 21, 2013. Kellogg is working with retail grocery stores to remove the tainted boxes and fortunately, no injuries have been reported to date. For more information about the recalled cereals, please go to Kellogg's website consumer alerts.
However, that is not the case with a recent peanut butter recall linked to Trader Joe's Creamy Salted Valencia Peanut Butter that contain the salmonella virus. It has been reported that 29 individuals in 18 states contracted the virus with ¾ of all the cases were children under the age of 18. Luckily, no deaths have been reported. Trader Joes Consumer Updates lists the specific products subject to recall or call (626) 599-3817 for further information.
What is a parent to do? Cereal and peanut butter are two staples in my household and part of a balanced diet. As a Georgia Trial Lawyer and informed parent, I can only hope that these recalls will reduce illness and eliminate catastrophic injuries as we try and protect the health and safety of our children.