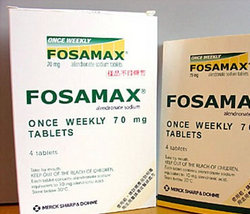 Drug executives and product liability lawyers have been closely watching the trial of Shirley Boles, a 72 year old woman that developed jawbone necrosis (jaw death) while taking the drug Fosamax. An unusually large number of Fosamax patients have developed osteonecrosis of the jaw, a condition that causes the gums to fall away exposing jaw bone that appears moth eaten. The condition is often described as jaw death. The manufacture of Fosamax Merck is currently defending over 900 federal and state lawsuits filed by women that developed osteonecrosis of the jaw on Fosamax. It has been alleged Merck misrepresented the drug's safety and failed to warn doctors and patients about the risks associated with taking Fosamax. Merck denies any responsibility for the hundreds of injuries suffered and claims Fosamax is a safe and effective medication.
Ms. Boles' case sparked national interest because it is one of the first of the Fosamax cases tried to a verdict. In her case, the jury held Merck responsible and awarded $8 million dollars in damages. As often happens with large verdicts, U.S. District Judge John F. Keenan in Manhattan reduced the juries' award from $8 Million to $1.5 Million. Judge Keenan is a veteran of the bench appointed by Ronald Reagan in 1983. In his decision, Judge Keenan wrote "a significant damage award is warranted, but the $8 million deviates substantially from what would be reasonable compensation,"
The law concerning verdicts that will apply in this case is virtually the same to state and federal court in Georgia. A judge may reduce a large verdict for any reason. The decision to reduce a verdict is completely in the judge's discretion and not subject to appeal. When a verdict is reduced, the injured plaintiff must choose between the reduced award or another trial. If the plaintiff takes the second option then she must wait until the judge offers another opportunity for trial, which can take months.
Merck will appeal stating the evidence did not support a verdict for the injured plaintiff. If I'm Merck I'm worried. Having a conservative judge agree with the jury that a significant award is warranted is certainly a bad omen for the hundreds of cases yet to be tried.